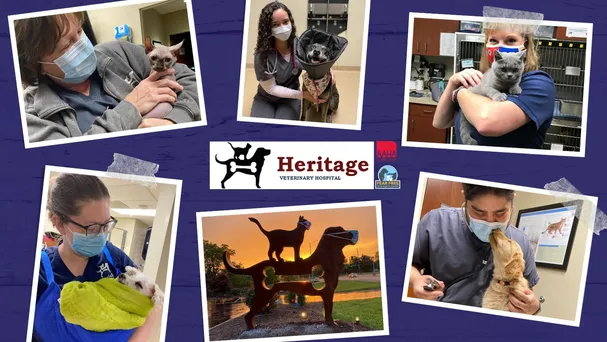 About Heritage Veterinary Hospital
Heritage Veterinary Hospital was established in 1974 by Dr. McLaughlin, and Dr. Sanford purchased the practice in 2003. We've proudly been a part of the St. Louis veterinary hospital community, offering care to the residents of the greater Creve Coeur, MO area, including extending care to the surrounding communities of Bridgeton, Maryland Heights, Kirkwood, Chesterfield, and St. Charles, among others.
Heritage Veterinary Hospital changed its name since we moved to our new location (we used to be called Heritage Veterinary Services) because we felt that the name "hospital" was a better reflection of the kinds of services that we offer to the pets of our community. Our animal hospital strives to offer the most thorough and compassionate care available, and we aim to be more than a one-size-fits-all veterinary hospital! We take each individual's needs into account when we prescribe a treatment, and we enjoy developing a relationship with each pet and their owner. Our veterinary team enjoys personalizing the care we present to each and every client, showing just how much we care!
Contact Heritage Veterinary Hospital
We'll be happy to answer your questions about our quality pet care and about your pet's specific needs. Please contact us for more information.